Anything in here will be announced as soon as it changes.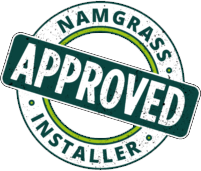 3 easy steps to help you measure
---
How to measure
Use our simple guide to help you measure for artificial grass
HOW TO MEASURE UP FOR ARTIFICIAL GRASS
An easy 3 step measuring guide to help you measure up for artificial grass.
A great tip is to always have the pile facing the house, so measure the width across your garden from side to side. The length should always be away from the house.
Step 1
Determine the width (this is at the widest point) of the area. If it is less than 2m wide, you will need to round it up to a 2m width. If it is between 2m and 4m wide, round it up to a 4m width.If your lawn is wider than 4m then you will need to join 2 pieces of grass together. If it is more than 4m but less than 6m, you will require a 2m width and a 4m width to be joined together. If it is wider than 6m but less than 8m, you will require two 4m width pieces to be joined together.
Step 2
Measure the length (this is the longest point). All of our grasses can be ordered in 0.1m increments to minimise wastage.
Step 3
Calculate any accessories you might require: joining tape, glue and membrane. You will need weed membrane to be placed underneath your lawn. Artificial grass glue is required for joining two pieces of grass together with the joining tape. The membrane comes in 4m widths and 1m increments as long as required. Joining tape comes in 1m increments so round up the joins to the nearest meter. 1 tube of glue will be sufficient to join approximately 3m of grass.